From marinas to mass transit, from hospitals to hotels, and from buildings to boats,
VYNGUARD® performance coatings and finishes

from APV Engineered Coatings provide custom-formulated protection for the toughest indoor and outdoor conditions.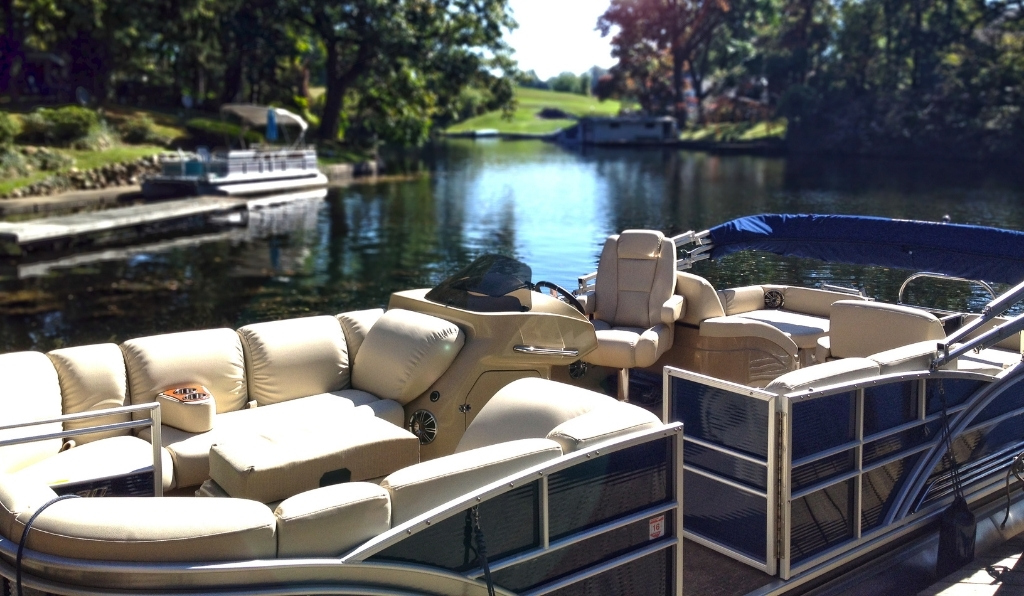 Applied by the original equipment manufacturer (OEM) onto rolled flexible vinyl, films, fabrics and textiles, VYNGUARD® has transformed the industrial fabrics market with advanced water- and solvent-based chemistry. APV's newest formulation – VYNGUARD® Polycarbonate Anti-Microbial (+AM) Topcoat – contains a unique polymer and resists film deterioration caused by gram-negative and positive bacteria on coated flexible vinyl surfaces. Due to its durability and superior ability to withstand microbial deterioration of the coating film, it significantly extends the aesthetics and service life of products. +AM can be incorporated into any VYNGUARD® formulation and has a broad spectrum of activity fighting against fungi, algae, yeast, and bacteria.
Resisting Pink Staining, Fungi, and Bacteria
Originally developed for a manufacturer of PVC flexible outdoor deck flooring material to resist pink staining in wet and humid environments, VYNGUARD® +AM has additional advantages on flexible vinyl used for indoor applications where moisture, dirt, staining and microbial contamination are common. It is ideal for wallcoverings, upholstery, thermo-formable PVC laminates, mass transit seating, and a range of other applications.
Pink staining is a typical problem with flexible vinyl materials, especially on boat seats; outdoor fabrics such as pillows, umbrellas, and sun shades; and vinyl flooring used around pool and boat decks. Over time, chemical additives called plasticizers in the vinyl migrate to the surface, providing a food source for bacteria to grow. This migration is exacerbated under harsh UV and humid environments and results in pink staining as a byproduct, which fouls and discolors the surface. There is no conventional way to remove the stain because the visible pink dye– created by bacteria's metabolic processes – is absorbed into the vinyl substrate and is no longer on the surface. It essentially diffuses into the vinyl along the pathway of the plasticizer migration . Prevention of pink staining must be considered before exposure to harsh environments happens, which is why OEMs are seeking out anti-microbial solutions.
Bacteria, fungi and other microbes are not just a challenge for outdoor materials. They can also negatively impact the integrity of the coating film on indoor vinyl and fabric. VYNGUARD® +AM not only protects indoor materials from pink staining, it also provides a shield against bacteria and fungi as well as stains from food and chemical cleaners.
Blocking Plasticizer Migration
Manufactured flexible vinyl is cured with a combination of resin, UV- and fire-resistant performance additives, and plasticizers, whose function is to make the vinyl formulation flexible and pliable. Because the plasticizer is not chemically bound to the resin, it will migrate out of the film over time, leaving the vinyl hard and brittle. Diffusion or migration of the plasticizer directly correlates to the performance and aesthetic of the vinyl fabric. This migration will also impact the performance of traditional lacquers, as the plasticizer penetrates the protective layer of coating opening a pathway for stains and microbial growth to penetrate directly into the vinyl substrate.
VYNGUARD® coatings provide a protective layer that blocks plasticizers from migrating through the surface of the coating. Its proprietary polymer composition, high cross-link density and UV inhibitors help it exceed industry standards for resisting weathering, shedding dirt and protecting against stains. It is also highly resistant to abrasions and marring, all while matching the flexibility and pliability of the vinyl substrate. In the case of the VYNGUARD® Polycarbonate +AM topcoat, this finish has very soft haptics or hand-feel, is available in ultra-matte and gloss sheens, and can be cleaned easily with typical gentle household cleaners or water; no harsh chemicals are required. Because the polymer composition is thermally resilient, it can also be used for materials such as faux or "green" leather upholstery, wallcovering, and flooring, that are embossed with a pattern after the coating is applied at the manufacturer.
When Anti-Microbial Additives in Vinyl Aren't Enough
More and more, vinyl manufacturers of flexible PVC, TPO and TPU are incorporating biocides and fungicides into the plastisol formulation before it's extruded or calendared. This offers great initial protection against microbes like fungi, algae, and bacteria. But like plasticizers, these additives are prone to migration, ultimately losing their ability to inhibit microbe growth. VYNGUARD® +AM topcoats provide an extra layer of protection against the elements and block this diffusion process. Having anti-microbial protection in a concentrated finish on the surface is critical, as this is the primary point of contact for bacteria, fungi, UV, humidity and moisture.
High performance flexible vinyl products produced today contain lacquers or finishes to extend their service life and complement their aesthetics. Like any coating, finishes must last on the surface to offer these benefits long-term. VYNGUARD® performance coatings with +AM technology provide proven and long-lasting performance, making them trusted by OEMs looking to build brand advantages.
For more information on VYNGUARD® +AM and the full line of VYNGUARD® custom-engineered coating technologies that provide innovative protection for industrial vinyl, films, fabrics and textiles, visit www.vynguard.com or join the conversation at #vynguard.