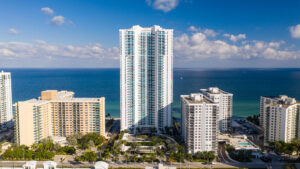 Project Overview
Location: Hollywood Beach, Florida
Project Type: Building Restoration
Products Used: NeverFade® Exterior Restoration Coatings
The Need: Restoration of a Luxury Condo Building
When it was constructed in 2009, Trump Hollywood was one of the most talked-about new condos in Hollywood Beach, Florida. The showcase property is located on an ideal beach location, situated between South Beach and Fort Lauderdale. Its unique, multi-angular structure helps the 41-floor structure stand out from its plain and boxy neighbors.
With 200 exclusive residences ranging from just over 2,000 square feet to over 5,000 square feet of indoor space and an elegant two-story lobby designed by noted design firm Yabu Pushelberg, the building quickly became a coveted address for people desiring luxury living. Residents enjoy city and waterfront views from private terraces, oceanfront cabanas, 24-hour valet and concierge services, and a range of additional high-end amenities.
The Challenge: Building Exteriors and Coastal Living
As with virtually every building located in coastal Florida, the exterior of Trump Hollywood is exposed daily to punishing environmental conditions, including high UV rays, high humidity, salt spray, and windborne sand. Over the years, these environmental assaults served to break down the builder-applied acrylic coating on the building's stucco surface, leaving it chalky and dull.
Beyond lackluster curb appeal, degraded coatings can leave a building's substrate bare and open to damage from the elements. This can lead to costly, time-consuming repair or replacement of façade materials.
The Solution: Ingredients for a Successful Restoration
Capital Contractor Services of Hallandale, Florida, was engaged to give the luxury building a facelift and restore its luster. Capital has years of experience providing exterior façade coating and other restoration services to meet the needs of condominium boards, management and commercial property owners. Capital's philosophy is that projects are not just about the outcome, they're about the experience.
"Trump Hollywood's name-brand prestige, size, unique shape and location, coupled with the fact that it was occupied by residents who didn't want to be inconvenienced during the façade restoration process, made it imperative for us to work deliberately, safely and with a high level of quality," said Alex Forjan, executive vice president, Exterior Division, Capital Contractor Services.
NeverFade® Exterior Restoration Coatings
Forjan noted it was also imperative to use high-quality products – coatings that would look good when applied and would provide long-lasting performance. For this, they turned to APV Engineered Coatings and its line of NeverFade® Exterior Restoration Coatings. NeverFade® Coatings contain Kynar Aquatec®, a water-based polyvinylidene fluoride (PVDF) resin that is ideal for air-dry, field-applied coatings. The premium, weather-resistant coating can be easily applied to a variety of substrates, including metals, plastics, wood, concrete, stucco, EIFS and previously painted surfaces.
"The use of Kynar Aquatec® and complex inorganic pigments gives NeverFade® the ability to resist film erosion, chalking and fading caused by harsh UV exposure," explained Ernie Porco, application engineer, APV Engineered Coatings. "As a result, we are able to provide a 15-year product-and-labor guarantee to building owners, which states that if the coating fades by a Delta-E of five or higher, we will replace the product and cover the labor cost of re-coating.
NeverFade® Certified Applicators
Porco noted that NeverFade® Certified Applicators like Capital go through special training to learn about the chemistry behind the product. They also learn details around pre-job testing, color matching, application mock-ups, on-the-job troubleshooting, and post-installation quality assurance, all providing confidence that NeverFade® will perform throughout its unique lifecycle.