Coatings Contractor Stuart Dean Company Recognized for Landmark Restoration and Jobsite Safety
SAN ANTONIO, Texas (March 9, 2022) – The 15000 Aviation Building, a striking, early example of Late Modern "High Technology" architecture, received a 21st-century facelift when its aluminum-clad exterior was refinished with NeverFade® Metal Restoration Coatings with Kynar Aquatec® from APV Engineered Coatings.
The restoration project, conducted by Stuart Dean Company, took top honors in the Specialty Project Category of the CoatingsPro Magazine 2022 Contractor Awards, presented today at the Association for Materials Protection and Performance (AMPP) Annual CORROSION Conference & Expo. The project also received the award program's first Work It Safe award for Stuart Dean's attention to jobsite safety. Program judges recognized Stuart Dean for "bringing all the [project] parties together and their extensive training."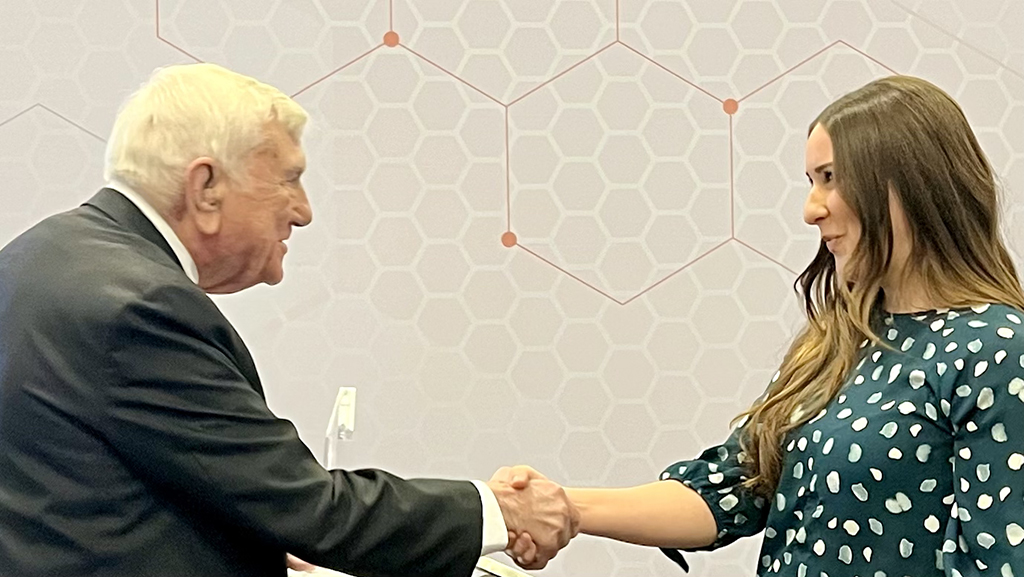 Stuart Dean Company, a national Certified Applicator of NeverFade® Coating Systems, refinished the building's 40,000-square-foot Class One clear anodized aluminum exterior from the ground floor to the roof – including all window surrounds, window frames, façade panels, soffit panels and turns.
The building's façade had been painted several times in the past with a matte, silver-gray aluminum-colored paint. The multiple paint layers had degraded and lost their adhesion, leading to widespread delamination and flaking. The damage was so severe that portions of the underlying aluminum substrate were exposed to the elements and subsequently became corroded and pitted.
"The damage was clearly visible at just a casual glance," said Chris Incorvaia, National Manager, Façade Restoration, Stuart Dean. "We had to remove all the previous paint and properly prepare the surface to ensure good adhesion of the coating system."
After the surface was prepped, the Stuart Dean crew applied an AAMA 2605-approved primer system (W-1650 Primer from APV Engineered Coatings) at a minimum DFT reading of 1.5 mils, followed by an AAMA 2605-approved fluoropolymer topcoat (NeverFade® Metal Restoration Topcoat from APV) at a minimum DFT reading of 2.0 mils.
NeverFade® is a premium, weather-resistant coating that can be easily applied to a variety of substrates. The coatings contain Kynar Aquatec®, a water-based PVDF resin that does not need to be baked, making it ideal for air-dry, field-applied coatings.
As a NeverFade® Certified Applicator, Stuart Dean goes through special training to learn about the chemistry behind the product. They also learn details around pre-job testing, color matching, application mock-ups, on-the-job troubleshooting, and post-installation quality assurance, all providing confidence that NeverFade® will perform throughout its 20+ year lifecycle.
"We worked closely with APV's coatings experts throughout the entire process, capturing photos and creating detailed condition reports at every stage," said Incorvaia. "APV made several onsite visits, meeting with the building owner, and conducting a final quality assurance evaluation at the end to support the 15-year product-and-labor guarantee APV provides to building owners."
About APV Engineered Coatings
Founded in 1878, APV Engineered Coatings custom formulates and manufactures industrial coatings and advanced chemical products in Akron, Ohio. APV is a partner to some of the world's top-producing manufacturers due to its expertise in chemical and coating composition, the commercialization of advanced materials and large-scale production. The company's innovative solutions have been integrated into a variety of industries for unique applications, such as aerospace, innovative textiles, and high-end building products. A licensee of Arkema Inc. in the use of Kynar® emulsion technology, APV has been developing and commercializing high-performance Kynar® resin-based coatings for field and factory applications for more than a decade. For more information, call 800-772-3452 or visit www.apvcoatings.com or www.neverfadecoatings.com. Join the conversation by using #NeverfadeCoatings, #KynarAquatec and follow us @APVCoatings.
NeverFade® is a registered trademark belonging to APV Engineered Coatings Inc. sold under a trademark license from Arkema Inc., owner of the Kynar® and Kynar Aquatec® registered trademarks.