APV Announces VYNGUARD® Contest Winners from IFAI
APV Engineered Coatings hosted a booth at the 2016 IFAI Expo in Charlotte, North Carolina last week to showcase their re-released VYNGUARD® product line.
VYNGUARD, a series of lacquer chemistries custom formulated for each customer, was originally launched for use with non-woven, vinyl substrates.  The company has now engineered additional formulations for use on specialty woven fabrics and leather hide applications.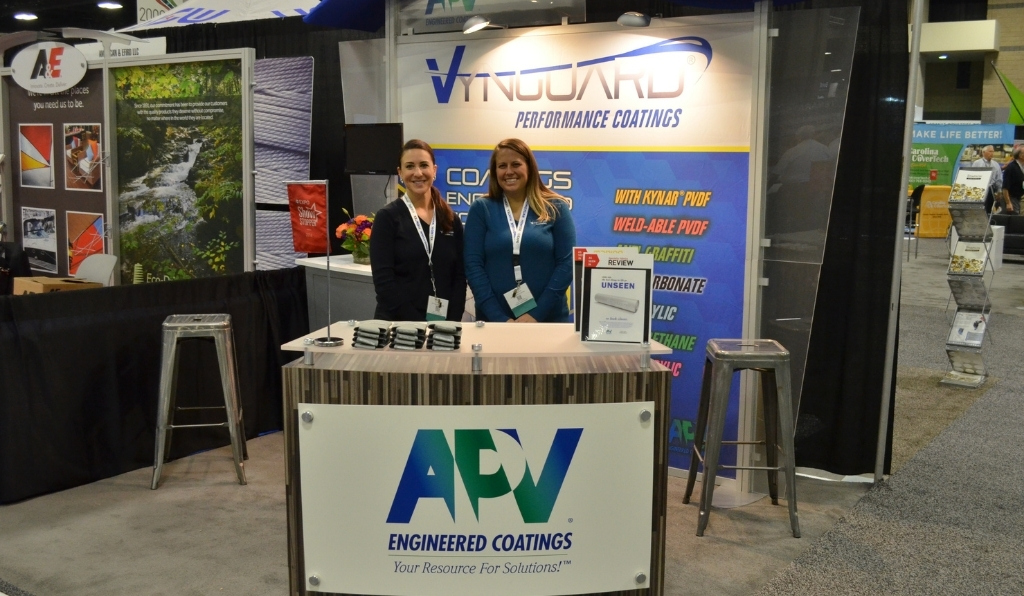 "Flexible fabrics and vinyl manufacturing is one of our fastest growing markets and the VYNGUARD® brand is receiving excellent reviews from the industry. Our current customers have had such success in the field that we wanted to expand our presence into a broader arena… the IFAI show provided us the perfect setting to do that," said Mike Couchie, Vice President of Sales.
APV acquired several domestic and international opportunities, which will be handled by the company's sales and technical R&D departments. Applications include truck tarpaulins, fabrics for outdoor building products, specialty clothing, and marine covers, among others. APV's engineers and technical experts have deep-rooted knowledge in the formulation of unique chemical technologies to optimize performance in the field or end-use.
"We want to thank everyone that stopped by our booth this year," said Erin Brown-Neff, Director of Marketing and Business Development. "We'd also like to congratulate our contest winners!"
The winners were randomly selected from APV's pool of booth visitors. The company will be awarding $500 Visa® Gift cards to Aaron Bell of Majilite Corporation and Cristy Benson of Ultratech. APV will also be awarding a Bushnell® Tour V3 Rangefinder to Seckin Ozol of Transhield Inc.
APV plans to exhibit at IFAI Expo next year in New Orleans. They plan to introduce more line extensions to the VYNGUARD® brand as they begin to commercialize chemistries with innovative performance polymers, environmental compliance, and excellent bond strength to new substrates.
About APV Engineered Coatings
Founded in 1878, APV Engineered Coatings custom formulates and manufactures industrial coatings and advanced chemical products in Akron, Ohio. APV is a partner for some of the world's top producing manufacturers due to its expertise in chemical and coating composition, the commercialization of advance materials and large-scale production. The company's innovative solutions have been integrated into a variety of industries for unique applications. Product offerings range from adhesives and release agents, to crayons and inspection marking tools, to water-based industrial inks and high-performance coatings. For more information, call 800-772-3452 or visit www.apvcoatings.com or www.VYNGUARD.com . Follow us on Twitter, LinkedIn, and Facebook by searching APV Engineered Coatings, or with the handle @APVcoatings.